Adriana Korn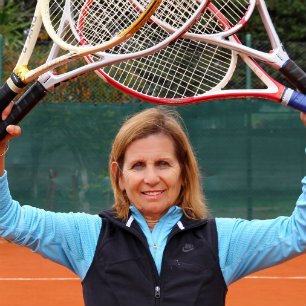 Adriana Korn, long career as a player, teacher, coach and director of the tennis academy that bears her name, has been a licensee of the British Association of Tennis, tennis offering short courses throughout the country. She has been Fed Cup captain representing Argentina between 1984-1987. She has also organized numerous coaching courses and tennis events for companies.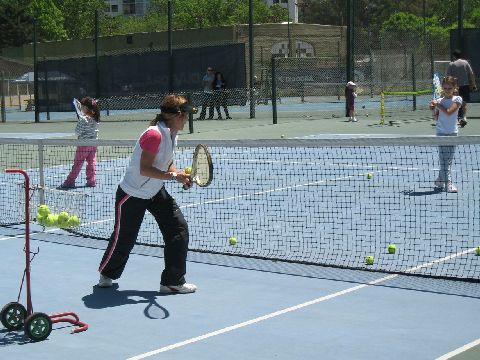 Tennis lessons
Private and team tennis lessons and training with extensive experience in adults and children. From Monday to Friday at Club Centro Asturiano of Vicente López, Buenos Aires.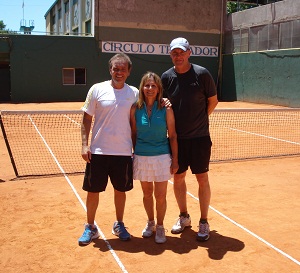 Foreign tennis players
Practice and training for foreign tennis players traveling for tourism, business or academic exchange to Argentina. Classes in English and French native language is also provided. Shuttle services to and from your hotel.
Health benefits of tennis: 10 reasons
Prof. (em.) Karl Weber MD, PhD, German Sports University, Cologne
1. Protection against inactivity and reduction of heart attack risk
2. Increase of fitness and relative protection for degenerative cardiovascular diseases
3. Management of body weight
4. Activation of fat metabolism and minimisation of dyslipidemia
5. Decrease of blood insulin level
6. Manifold positive effects on the skeletal muscle tissue (muscles, tendons, ligaments, cartilage and bone)
7. Reduction the risk of osteoporosis
8. Low risk of injury
9. Stimulation of cognitive brain functions and delay of age-related degenerations
10. Higher quality of life
Our mission: Getting people to improve their quality of life, increase their possibilities of action and welfare.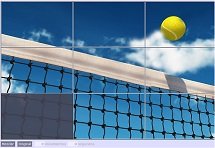 Puzzle!
We challenge you to solve this game in the least amount of moves and time!
What is your fastest time?
Play!
Location
All the activities take place in the Club Círculo Trovador, located on Av del Libertador 1031, and Club Centro Asturiano, located at Av del Libertador 1081, both in Vicente Lopez, Buenos Aires. Facilities include clay and hard courts.
How to get to the clubs
Using train: from Retiro station, take the train Mitre, Tigre branch, to Vicente López station.
Using subway and bus: From Plaza de Mayo, Obelisco, Plaza Italia or Alto Palermo Shopping, take the subway line D to Congreso de Tucumán station. Then take the bus 161 ("Florida y Avenida Dorrego" sign) which goes to the clubs.
Remis or Taxi